Quite a few Kiwis that are buying their first home (or another home) are doing so with another person or people and while that makes the purchasing easier it can also cause issues in the future if there is no agreement or a badly written agreement between the various parties.
Common reasons to use a property sharing agreements are when:
Parents are helping out a child – often parents have the ability to and will want to help a child purchasing a property, but family arrangements like this can cause huge rifts if the agreement is not very clear.
Couples buying with unequal deposits – often a couple will buy a home together, but one person has a lot more money to go towards the deposit and the expectation may be that the ownership is not to be equal because of this, or that the unequal deposit is split the same way should the relationship cease and the house is sold. These arrangements can get very messy if there is not a clear agreement from the start.
Friends or family buying together – this has become a popular way to buy a house and while it might seem easier, these arrangements can turn sour when someone wants to exit.
The main benefit of a property sharing agreement is certainty.
The agreement is made at the start when the property is being purchased, and spells out what happens in a range of scenarios to ensure that there is clarity for everyone involved.
What Are Property Sharing Agreements?
Property sharing agreements are a document that sets out the rights and obligations of the co-owners, where a group of people are purchasing a property together.
Property sharing agreements typically include information such as what share of the property each co-owner has, how outgoings are paid, and what happens if one of the co-owners wants to sell, as well as several other key aspects of the arrangement. Formalising these decisions with an agreement could help to avoid costly disputes in the future.
Property Sharing Agreements (also known as shared ownership agreements) are highly recommended, to formalise the arrangement and set out everybody's rights and obligations clearly.
Writing A Valid Agreement
How do I make a valid property sharing agreement?
All you have to do is agree as a group on the terms to put in the agreement, write it down in a clear format, and have everyone sign it.
However, writing your own agreement can lead to key information being written unclearly or left out, which may result in disputes as a group.
That is why a good option is using the Property Sharing Agreement template provided by Agreeable. The automated software asks you the key questions, and generates the agreement for you. This ensures that you are not going to leave out any important clauses.
Then, the team at Agreeable can help you fix it up to be ready to sign.
Getting Legal Advice
Do you need legal advice with a property sharing agreement?
When you set up and enter into a property sharing agreement there is no statutory requirement to obtain legal advice and have your signature witness by a solicitor or lawyer, in order to make the document legally binding, but we still recommend that each party to the property sharing agreement seeks their own independent legal advice prior to signing.
This will clarify all the implications of the agreement, and have everyone properly informed.
As mortgage advisers we recommend that you consider having a property sharing agreement and these are generally done with your solicitor, but if you want a simple or low cost alternative then we would suggest that you use our discount to get one online.

Get Discounted Agreements Online Now
We have negotiated with a company called Agreeable to offer you their certified agreements.
These are agreements that you can buy online for a fraction of the normal price, fill out the short questionnaire, then the Agreeable team can help you edit the Property Sharing Agreement to fully reflect your intentions.
You can also get a fixed fee quote if your situation is a little more complex and you require personal and professional legal advice.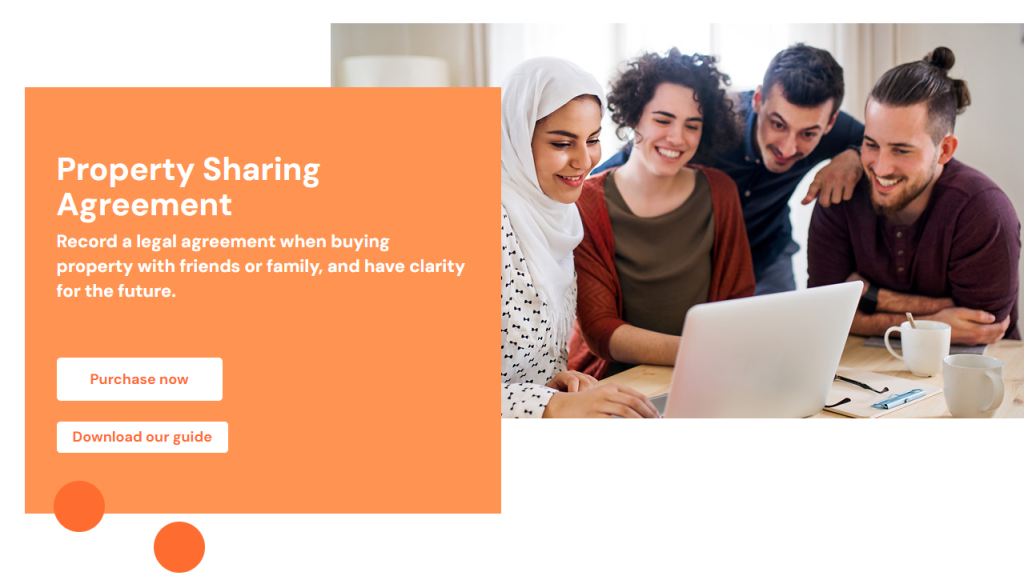 Use the code MORTGAGE15 for 15% off the agreement.